Izbori u SAD, zvanični topik
^^jeste ovo je bas harlem globtroters zakucavanje sa trambulinom na liniji za tri poena

_____
Always is always forever, as long as one is one
Inside yourself for your father, all is none all is none all is one
It's time we put our love behind you, the illusion has been just a dream
The valley of death and I'll find you, now is when on a sunshine beam
The Intercept je objavio tajni izveštaj NSA od par dana pre i
Russian military intelligence executed a cyberattack on at least one U.S. voting software supplier and sent spear-phishing emails to more than 100 local election officials just days before last November's presidential election, according to a highly classified intelligence report obtained by The Intercept.

The top-secret National Security Agency document, which was provided anonymously to The Intercept and independently authenticated, analyzes intelligence very recently acquired by the agency about a months-long Russian intelligence cyber effort against elements of the U.S. election and voting infrastructure. The report, dated May 5, 2017, is the most detailed U.S. government account of Russian interference in the election that has yet come to light.

While the document provides a rare window into the NSA's understanding of the mechanics of Russian hacking, it does not show the underlying "raw" intelligence on which the analysis is based. A U.S. intelligence officer who declined to be identified cautioned against drawing too big a conclusion from the document because a single analysis is not necessarily definitive.

The report indicates that Russian hacking may have penetrated further into U.S. voting systems than was previously understood. It states unequivocally in its summary statement that it was Russian military intelligence, specifically the Russian General Staff Main Intelligence Directorate, or GRU, that conducted the cyber attacks described in the document:

Russian General Staff Main Intelligence Directorate actors … executed cyber espionage operations against a named U.S. company in August 2016, evidently to obtain information on elections-related software and hardware solutions. … The actors likely used data obtained from that operation to … launch a voter registration-themed spear-phishing campaign targeting U.S. local government organizations.

This NSA summary judgment is sharply at odds with Russian President Vladimir Putin's denial last week that Russia had interfered in foreign elections: "We never engaged in that on a state level, and have no intention of doing so." Putin, who had previously issued blanket denials that any such Russian meddling occurred, for the first time floated the possibility that freelance Russian hackers with "patriotic leanings" may have been responsible. The NSA report, on the contrary, displays no doubt that the cyber assault was carried out by the GRU.

The NSA analysis does not draw conclusions about whether the interference had any effect on the election's outcome and concedes that much remains unknown about the extent of the hackers' accomplishments. However, the report raises the possibility that Russian hacking may have breached at least some elements of the voting system, with disconcertingly uncertain results.

...
Suština izveštaja je u (ne)zaštićenosti glasačke IT infrastrukture, i kuc-kuc na vrata koje je došlo od GRU.
E sad, uhapsili su neku devojku jer je poslala fajl Interceptu, i to onako najgluplje moguće - običnim mejlom.
The story of a leaked NSA report detailing Russia's alleged attempts to infiltrate US voting infrastructure ahead of the 2016 presidential election just took a sharply unexpected turn. 

Reality Leigh Winner, 25, has been arrested and is in custody, with officials saying they have identified her as the source of the documents leaked to The Intercept.
Tako je, bre, hapsi te radodavaoce i prekomerne obznanjivače tajnovitih podataka!

Nego, čak 100 lokalnih ofišala...? Šta li je sledeće? Meni je to kao kada uhapse lekara zbog mita od 200 evra pa slikaju na televiziji. Prosto smešno.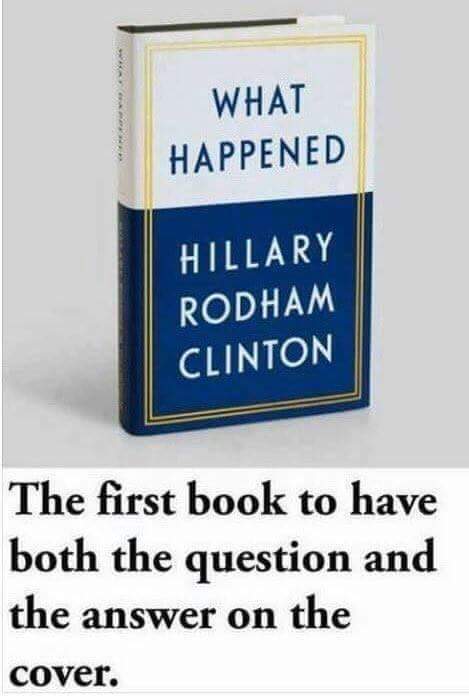 _____
"Oni kroz mene gledaju u vas! Oni kroz njega gledaju u vas! Oni kroz vas gledaju u mene... i u sve nas."

Dragoslav Bokan, Novi putevi oftalmologije
poslusaj jimmy dorea sto je okacen na topiku za prave levicare, ako nisi

_____
Always is always forever, as long as one is one
Inside yourself for your father, all is none all is none all is one
It's time we put our love behind you, the illusion has been just a dream
The valley of death and I'll find you, now is when on a sunshine beam

_____
"Oni kroz mene gledaju u vas! Oni kroz njega gledaju u vas! Oni kroz vas gledaju u mene... i u sve nas."

Dragoslav Bokan, Novi putevi oftalmologije
William Murderface wrote:

_____
alt-lib

_____
retaliating the courtesy
I wonder if Louise is home. If she's something else, then no wonder.
Nije smešno, bio je njen red!
aukurac, ne mogu da okačim sve, evo linka
https://twitter.com/sam_kriss/status/909105862848983040

o knjizi HRC "What happened"